The contest "Best English Lesson Plan" (BLP) is held with the aim of increasing the professional competence of English teachers in the field of modern teaching methods and global best practices. The dual purpose is for ATENK to facilitate stimulation among all districts and learning communities of the North Kazakhstan region in hopes to advance the quality of English language education for all students and to provide a platform for all teachers to receive continuous professional development opportunities and leadership development.
The contest is eligible for English teachers of the North Kazakhstan region and Petropavlovsk city only. Other fields and regions will not be allowed to compete.
Jury members will be experienced teachers and educators both locally and internationally and will be scoring lesson plans on a points scale ranging from 0 to 3 (with 3 being the highest mark). The following categories will be the guiding criteria:
Lesson objectives and learning objectives are aligned with SMART objectives

Tasks in accordance with Bloom's taxonomy

Differentiation

Cross-curricular links

Interaction patterns (teacher-teacher, teacher-students, students-students, etc)

Assessment during the lesson

Feedback/reflection during the lesson
Winners of the BLP 2019 Competition:
1st place winners are nominated to take the TKT (Teaching Knowledge Test)
Alexandra Ilina (Petropavlovsk, school 8)

Dina Alibekova (Petropavlovsk, school 26) 

2nd place winners are nominated to take online CELTA preparation course by Jo Gakonga
Tamara Chereshko (Mamlyut district, Minkeser secondary school)

Aidana Mendekeyeva (Petropavlovsk, Lyceum Daryn)

Yulia Vassilchenko (Petropavlovsk, Lyceum Daryn)

Zarina Shaykhmetova (Shal akyn district, Afanasevka secondary school) 

3rd place winners are nominated to take online CELTA preparation course by Jo Gakonga
D. Burekbayeva (Mamlyut district, Mamlyut Kazakh boarding school)

Botagoz Kassenova (G.Musrepov district, Ruzaevka secondary school)

Antonina Shashtauletova (Kyzylzhar district, Vagulinskaya secondary school)

Bagdad Shamshiyeva (Petropavlovsk, school 9) 

Special recognition for developing a creative lesson plan goes to:
Askar Anuarbek (Ayirtau district, Komarovka secondary school)

Anastassiya Spiridovich (Kyzylzhar district, Vodoprovodnaya high school)
Our BLP(Best Lesson Plan) 2020 winners: Dina Alibekova & Alexandra Ilina took the TKT (Teaching Knowledge Test) Module 2 at Study Inn, Nur-Sultan on February 2, 2020.
Also joing our BLP winners at Study Inn were active ATENK members: Assel Jaxalykova, Irina Folenveider and Saule Zikirina. These members played a critical role in the development of the BLP contest.
Thanks goes to the National Alumni Network and the US Embassy in Kazakhstan for this professional development opportunity for dedicated North Kazakhstan teachers!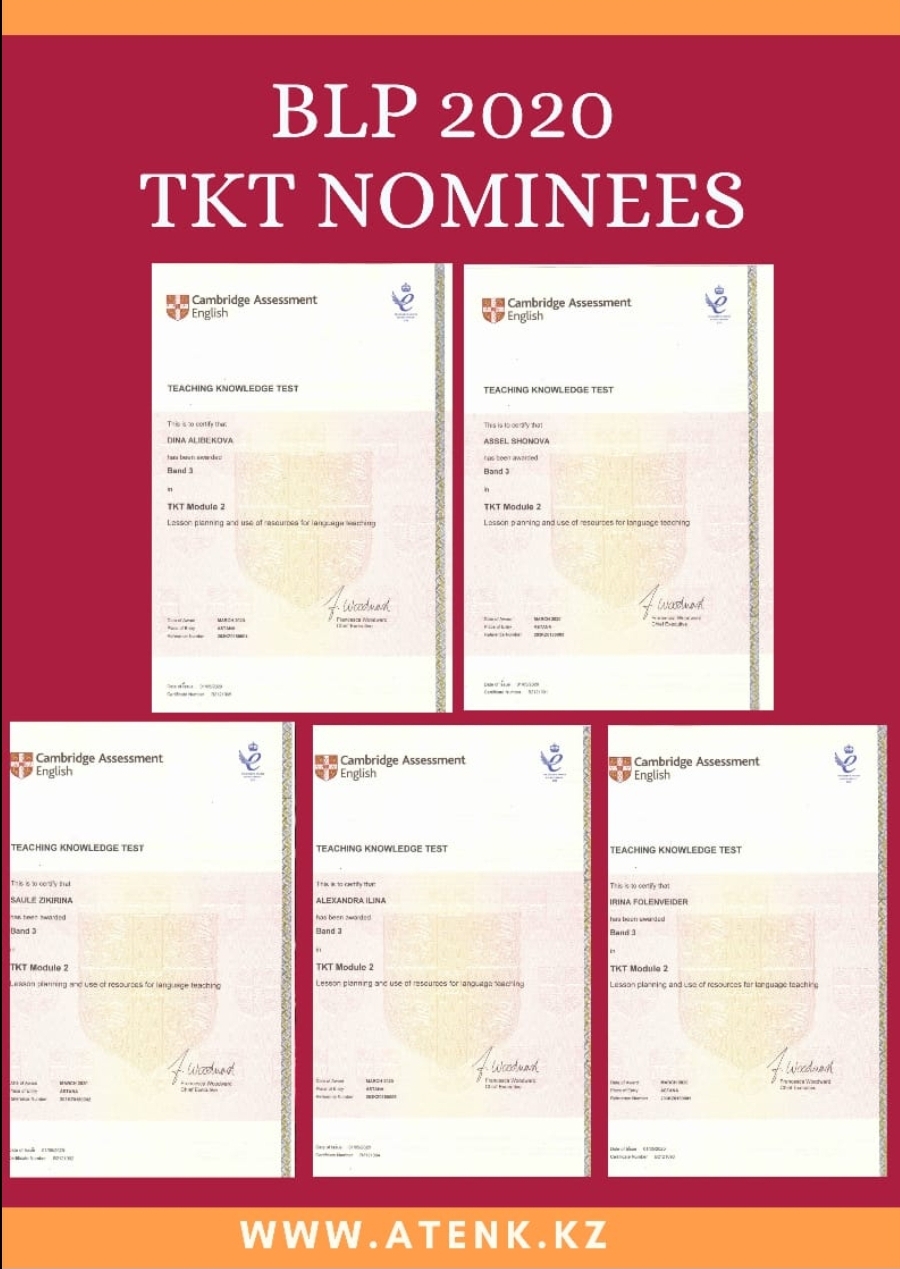 CELTA Prep course
From November 2019 to January 2020, ATENK conducted the 'BEST LESSON PLAN' contest. Eight 'Best Lesson Plan' contest winners took a 'Free CELTA Toolkit' course and earned a grant to study 'Grammar for Language Teachers' with
ELT-TRAINING.COM
.
Elt-training is a web site that aims to provide training support for trainee and novice English language teachers as well as more experienced teachers, too. There are short video films about wide-ranging topics.
The website is extremely useful for those who would like to take CELTA course and also for teachers who would like brush up on their teaching methods.
On the website you can find free and paid courses. All the material has been created by Jo Gakonga.
Jo Gakonga has been a CELTA trainer since 2001 and is also an CELTA assessor and Joint Chief Assessor for Cambridge, She works on the MA in TESOL at Warwick University and is studying for an PhD in the field of teacher education. She has taught and trained teachers in a wide range of contexts and is the co-author of IELTS Foundation, published by Macmillan.
You can watch her special video message to ATENK: