The regional contest "Best Teacher Award - 2020" Regulation
         There are so many amazing educators out there, changing students' lives with hard work and enthusiasm – and we want to meet you!  That's why we're launching our 1st annual Best Teacher Award, aimed at recognizing and celebrating the very best English language teachers across the North Kazakhstan region.


Who can enter "Best Teacher Award - 2020"?
    Teachers of English of different educational institutions can take part in the Contest:
1) secondary rural English teachers from North Kazakhstan region;
2) secondary Petropavlovsk English teachers;
3) lyceums, gymnasiums and NIS school English teachers from North Kazakhstan;
4) secondary vocational and tertiary education institutions of the North Kazakhstan region and Petropavlovsk.
The age of the participants is not limited; the teaching experience is not taken into account.
      We want to hear from anyone who is dedicated and passionate about English language teaching. You are part of a huge community of teachers all over the region, and the opportunity to participate in the contest is a chance to expand your network and open up new horizons. 
So if you're thinking about entering, ask yourself the following questions: 
Do I love my profession? 
Do I make a difference to my students' lives? 
Am I proud of my work as a teacher? 
If the answer to these questions is 'yes', then you're exactly the kind of teacher who should enter the competition!
The deadline for the registration: September 9, 2020
Stage 1. Test
Format: online,
Date of the Test: September, 11th, 15:00
Test Structure: 3 sections
(Section 1: Lesson Planning and use of resources for language teaching   Section 2: Managing the teaching and learning process   Section 3: CLIL)
Number of questions in each Section: 10
Test duration: 50 minutes.
Stage 2. Lesson plan reflection essay (500-700 words)
Deadline for essays: September, 18th, 00:00
Write a lesson plan reflection essay. Describe approaches and methods you used in your lesson plan (500-700 words).   
Essay requirements
    The essay should cover the answers to the below given questions:
       How did you plan/design the lesson? How did you motivate your students during learning? How was the lesson received by your students and how did you assess your students' learning?


Read the rubric of BTA 2020


Stage 3. Video presentation (3 minutes) 
Deadline for videos: September, 27 th, 00:00
Choose one of the suggested topics to present your teaching practice via video.
1 - YOUR STORY
       Share your story about being a teacher, your background, why you chose to dedicate your career to teaching and why you believe you have made an outstanding contribution to the profession.
2  - INNOVATION
         Tell us about any creative, unusual or otherwise extraordinary teaching practices you have introduced in your lessons that you believe has made a difference to your students' education or even helped them overcome any particular challenges they may face.
3  IMPROVING THE TEACHING PROFESSION
          Share how you are contributing to the improvement of the teaching profession. How are you helping to raise the bar of teaching, sharing best practices with your colleagues and helping them overcome the challenges they face in your school or in their school?
4   REMOTE TEACHING
Share your online lessons experience.
What  is your teaching approach during remote teaching  and learning?  Are there tried and tested models of remote practice that you have used which are effective, replicable and scalable? How has your English teaching enabled you to make a difference to students' lives?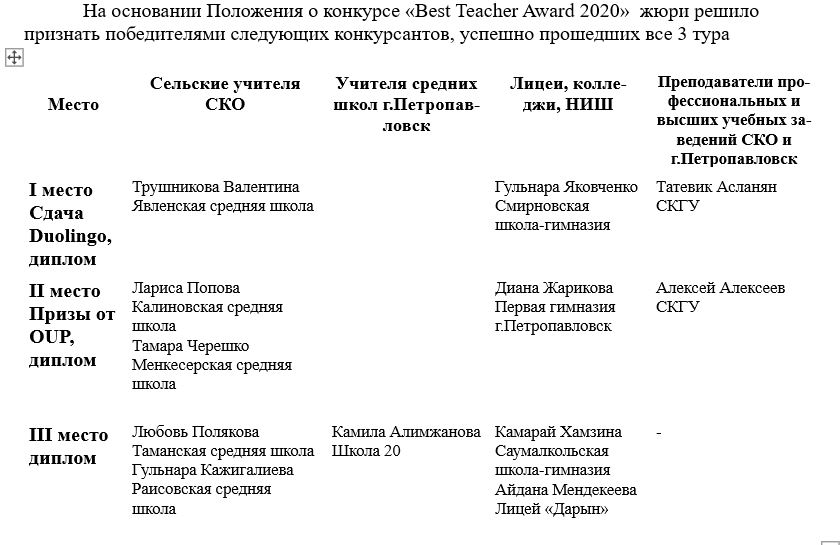 You can watch the videos below of the most interesting entries:

Valentina Trushnikova, Gulnara Yakovchenko, Antonina Shashtauletova, Larissa Popova, Tamara Chereshko, Gulnara Kazhigaliyeva, Alexey Alexeyev, Tatevik Aslanyan and Yelena Krasnikova. All the video links are below!